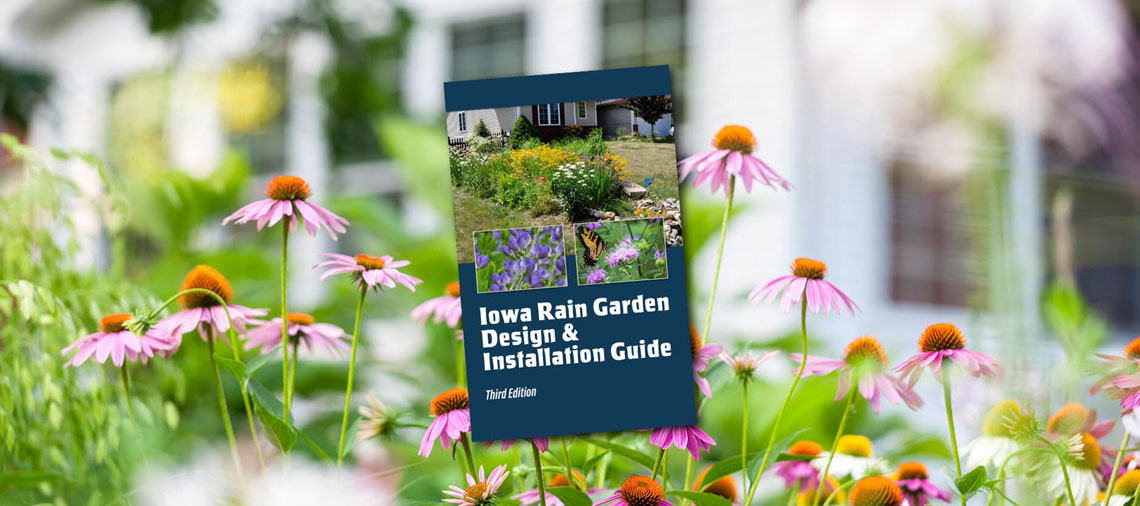 The guide provides readers with step-by-step instructions for designing and installing a rain garden on their property. A rain garden is a type of stormwater best management practice. They collect and cleanse rainwater and snowmelt by allowing it to be absorbed into the ground rather than it draining into the street and into the storm sewer system. Homeowners and business owners can add value to their property and improve local water quality by adding a rain garden to their landscapes. Native plants can be used in rain gardens and provide excellent habitat for birds, bees, and butterflies.
The third edition of the Iowa Rain Garden Design & Installation guide features updated design calculations, material specifications, plant lists, and maintenance checklists. The guide can be purchased as a Kindle eBook or as a PDF from the ISWEP website.
Readers begin by learning the importance of rain gardens and where to located them in a yard. Two designs are offered, basic and enhanced rain gardens, the latter featuring subdrain infrastructure. Detailed instructions are provided for calculating the correct size and depth for managing most rainfall events in Iowa. Once the design is complete, instructions are included for creating a comprehensive list of materials and installing a rain garden as a DIY project or as a contractor-led project. The final chapters provide guidance on plant selection and rain garden maintenance. Several helpful appendices are included, such as sample rain garden plant layouts and how to calculate soil amendments.
The guide was developed by the Iowa Stormwater Education Partnership (ISWEP) in cooperation with the Iowa Department of Agriculture and Land Stewardship (IDALS) Urban Conservation Program, the Iowa Department of Natural Resources (IDNR), and Polk County Soil and Water Conservation District. Development of the guide was led by an Advisory Committee comprised of municipal stormwater professionals, state officials, and design consultants.